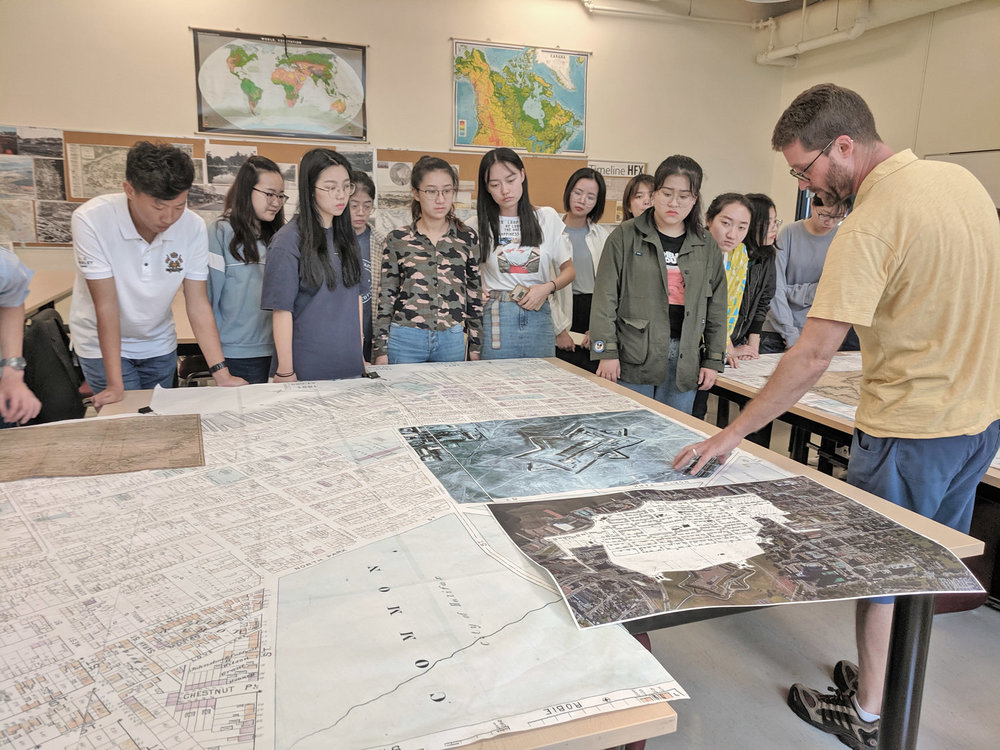 Sixteen students visiting from BNUZ recently got glimpse of the history of Halifax and into the lives of the many people and cultures that have contributed to city's past, present, and future.
The students are on campus for the 8th annual BNUZ Summer Institute which provides a series of academic lectures and cultural workshops.
Will Flanagan, a cartographer and map librarian with the Geography and Environmental Studies Department, and Albert Lee, a noted photographer and historian of the Chinese experience in Nova Scotia led students an illustrated tour of the influences that have shaped Halifax.
Beginning with Mi'kmaq settlements thousands of years ago up to the present day, their tour outlined events such as early colonization by British and French settlers, the Halifax Explosion, World Wars I and II, the arrival of immigrant communities from around the world, and the razing of Africville. Each of these were examined as events that not only changed the shape and character of Halifax, but as episodes that shaped the cultural memory of its residents.
Setting the stage for the hands-on and interactive session was an enormous map of mid-19th century Halifax, overlaid in places with some of the earliest aerial photographs of the city. With the students gathered around the table, Prof. Flanagan used photographs, engravings, sketches, and even personal letters from early residents to illustrate the how the city has been shaped by social, economic, cultural, and political forces over the centuries.
The second part of today's class was led by Albert Lee, whose grandfather Ngoon Lee was among the earliest Chinese immigrants to call Halifax home. Mr. Lee explained that his grandfather, who hailed from the small village of Hoi Ping in Guangdong Province, endured a six-week voyage to Canada, finally arriving in Halifax by box car in 1906. One of fewer than 20 Chinese immigrants living in Halifax at the turn of the century, he set up the Sam Wah Laundry on Bliss Street in a renovated boat shed. Having established a going concern (one of the few enterprises early Chinese immigrants were permitted to operate), he sent for his son in China to join him. Ngoon Lee was then forced to pay the $500 Head Tax when his son (later known as Chuck) arrived in Vancouver, which at the time represented well over a year's salary. Soon after, Canada passed the Chinese Exclusion Act (1923-1947), which further kept families apart by preventing Chinese women from emigrating to Canada.
Despite the hardships and discrimination faced by early Chinese immigrants, Mr. Lee explained that early Chinese settlers thrived in part because of the strong connections they built with other marginalized peoples, including the Mi'kmaq, Acadian, and African Nova Scotian communities around what is now Halifax Regional Municipality. After decades of discrimination and exclusion, Chinese Nova Scotians have gone on to become some of the city's most successful and well-respected residents.
Albert Lee is included in the Canadian Museum of Immigration at Pier 21 Oral Histories Project. A clip can be found here: https://pier21.ca/content/oral-history-151021al-with-albert-lee