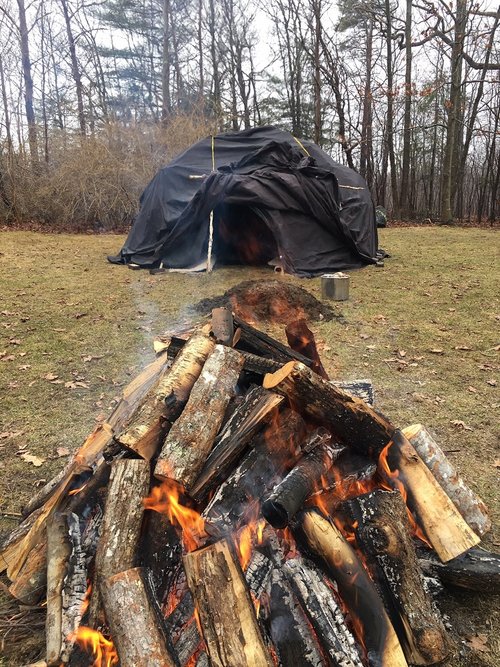 Participating in the first sweat lodge ceremony on campus at Saint Mary's was an unforgettable way to wrap up the school year for a small group of students.
"It's a really special experience, that's for sure," said John Morrison, an Anthropology major, shortly after emerging from the two-hour ceremony on Monday, April 15.
The sweat lodge structure was built the day before on the lawn behind The Oaks, using wood and rocks gathered in the area. For several hours prior to the ceremony, rocks were heated in the sacred fire pit, then moved into the lodge, where water was poured onto them to create steam.
"It was a very calming experience being in there," Criminology major Mary Rice said during a group lunch afterwards. "It was really hot but I was just focusing on putting my energy into the praying and healing. What helped me get through the heat was the people I was praying for; they're going through a hard time so I can go through the heat for a little while to send them healing thoughts."
Raymond Sewell, SMU's Indigenous Student Advisor, said students have long been inquiring about having a sweat lodge on campus so it was nice to see it become a reality this week.
Over the past term in the Indigenous Peoples of Canada course, students had been learning about cultural and historical challenges for Indigenous Peoples The course is taught by Professors Trudy Sable and Roger Lewis and one of their guest speakers was NSCC's Indigenous Student Advisor Gary Joseph, a Cree Elder married to a Mi'kmaw woman from Shubenacadie. During his class presentation, Joseph guided students through a mock sweat lodge experience.
"The students really liked it and felt it showed the resilience of Indigenous cultures healing and moving forward given the painful and often unrecognized history they had been learning and discussing in class," said Dr. Sable. Students expressed an interest in trying the real thing, which took some advance coordination but it came together with help from Sewell and his father, as well as Joseph, plus funding from the Office of the Vice-President Academic & Research.
"This just seemed like an opportune time and an experiential continuation of our class. There is a lot of interest to do more of them," said Dr. Sable. The sweat lodge will remain on campus for a year and Sewell looks forward to coordinating future events.
Joseph provided some context around the elements of Monday's ceremony: "Some of our ancestors a long time ago who signed agreements with other nations, one of the comments that often came of that treaty process was 'we're doing this for as long as the sun shines, the grass grows and the rivers flow'. When we make the sacred fire, we're making a connection with the fire of your spirit and the fire of the sun. When you make these ceremony lodges, the grass is also part of the ribs of Mother Earth, so we're acknowledging Mother Earth. And the water of course, we're born from water, we're breathing water, and water is 80 per cent of our body, so we share the water."
Stephanie Dionne, an Anthropology major, strongly encouraged other students to try out the sweat lodge when the opportunity arises again. It's an important addition to the campus as a welcoming space for Indigenous students, but also as a helpful gateway to intercultural study for other students, she said.
"It's a starting point to broader understanding. I feel like it's giving us a window into the life of other people," said Dionne.