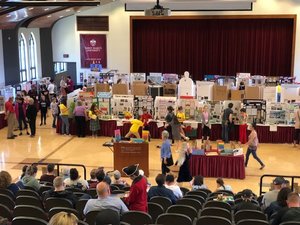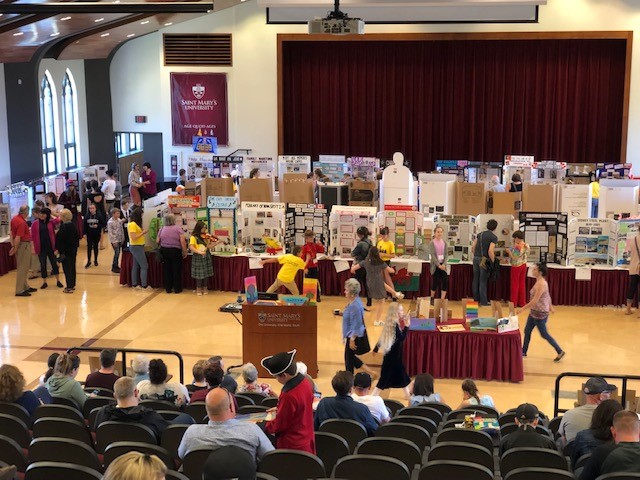 The future of history is in great hands, if the Nova Scotia Provincial Heritage Fair is any indication.
Eighty students from across the province showcased their excellent and informative history projects on June 6 and 7, in the McNally Theatre Auditorium at Saint Mary's University. Ranging from Grades 4 to 9, the students researched everything from local theatre and Louisbourg to maple syrup and "Canadian stereotypes, eh?"
With a new award this year for military heritage, some projects reflected Nova Scotian involvement in the Second World War, particularly poignant as the fair coincided with 75th anniversary commemorations for D-Day. Other new awards recognized student research in African heritage topics, environmental history, equity and justice, immigration studies, the history of science and technology, and more.
Cultural heritage also had a strong showing, with detailed projects about Viola Desmond, the '60s Scoop, an Inuit family tree, the Underground Railroad, Portuguese and Dutch immigration to Canada, Celtic fiddles and Acadian culture.
Many students found inspiration in their own families, including a Grade 6 girl from Bridgewater researched Portia White, "whose brother Lorne was my great grandfather". A Grade 6 boy from Albert Bridge, Cape Breton, chronicled the history of Sydney Steel, where his grandfather and great grandfather both worked. "It was definitely a tough job," he said.
The projects were winners at regional fairs across the province before coming to SMU. The Provincial Fair judges are all professionals active in the fields of culture, history and heritage – professors from the SMU Faculty of Arts, archivists, librarians, museum curators, museum interpreters and more.
The student delegates and their chaperones stayed overnight on campus in residence. They also took part in workshops at the Art Gallery of Nova Scotia, creating their own folk art inspired by Maud Lewis, who was the theme for this year's event. Africville will be the focus for next year's Nova Scotia Heritage Day and the Provincial Fair.
Follow the Nova Scotia Provincial Heritage Fair on its website, on Facebook at @novascotiaheritagefairs, and on Instagram at nsprovincialheritagefair.