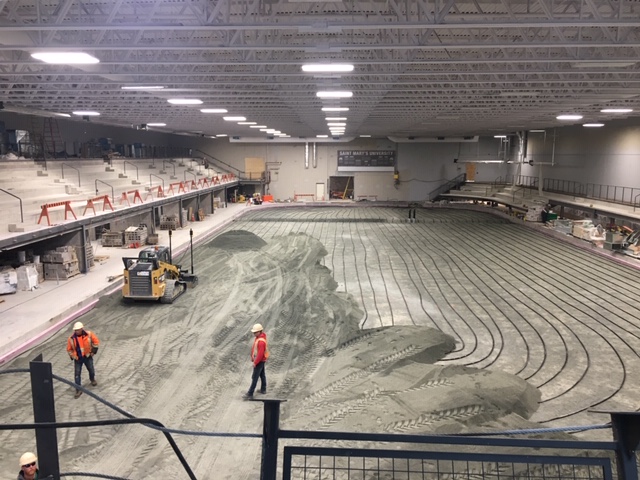 The paint is drying, and the seats are installed as The Dauphinee Centre continues on its path towards opening day this fall. The varsity dressing rooms are coming along nicely, as is work on the ice surface, where the piping is in place, and the concrete surface has been laid.
"Although construction only began about a year ago, we are now closing in on the final month of this project," said Gary Schmeisser, The Dauphinee Centre project manager. "Everyone involved in this project has been doing a great job to keep us on schedule. We all keep looking toward the opening with anticipation, and we are excited to share the finished product with our community."
The flooring has, for the most part, all been installed and all the interior walls are in place. The elevator has been installed, and the interior and exterior of the arena have all been painted. Landscaping for the centre has already begun, showing just how close this project is coming to completion.
Earlier this summer a ceremony took place to where the iconic smoking pipe of the late Bob Boucher was laid at centre ice. This ceremony brings a direct connection between Saint Mary's storied hockey past with the future of the sport at The Dauphinee Centre. Bob was rarely seen without his smoking pipe, which became a symbol of the well-loved coach and the tradition of excellence he brought to the university's hockey program.
While the project is winding down, other aspects of the project will soon be appearing on campus, coming as a pleasant surprise for Huskies fans.
"As some of our Saint Mary's community members may have noticed, the scoreboard for Huskies Stadium is no longer in place," said Scott Gray, director of Athletics and Recreation. "I am happy to share with you that as part of this project, the stadium will receive a new scoreboard that will include a video screen. Now Huskies fans will never miss a moment of the action."
The Dauphinee Centre is scheduled to open this fall. Don't miss out on the action, purchase tickets to the Men's and Women's hockey home openers and more at http://www.smuhuskies.ca/fan_zone/Tickets.